(Tillie here. The following is mostly about our new Whimsie friend, Tootsie, but since she is still learning how the internet works, and continues to feel somewhat bashful about adding her voice to the blog, for the moment she has asked me to relay the following events. Tootsie has read this through and approves of every word, so please take this as having come from her own heart and lips.)
Last night, as we all sat around having a snack of chocolate milk and sugar cookies, Tootsie began to "wax nostalgic," a phrase which here means "talk lovingly about how much she has always loved to climb trees." She's been here with us in Whimsieville for a couple of months now, and she and I have had lots of good opportunities to renew our friendship from years ago. During this time, Tootsie has also been adjusting to her new surroundings, getting acquainted not only with her new Whimsie friends Trixie and Tessie, but also her new human friends, Miss Chrissy and Mr. Russ, playing with the dinosaurs, learning about the internet, and catching up on all the reading and movies she's missed while being in the Attic for the last thirty years or so.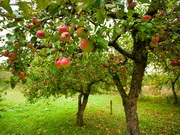 During this time we've had only a little time to explore the great outdoors, not nearly as much as Tootsie would have liked, since when she came to us, Winter still had us in its grip. And now that Spring is here, we've been having an awful lot of those April showers that bring May flowers. But slowly, that's all beginning to change, and some of those flowers are beginning to make an early appearance. In fact, it must have been the sight of those flowers that made Tootsie start thinking more and more about the greenery and trees she's always loved so much.
And last night, as Tootsie went on and on, waxing nostalgic about the huge and beautiful estate where she used to live with her human friend, Patty, she recalled how the two of them would spend many happy daytime hours climbing tall oaks and apple trees. All these lovely memories gave Tootsie a strong yen to get outside and climb trees, and we were all most sad to explain to her that there really aren't any oaks or apple trees here in Whimsieville. In fact, as far as we're aware, there are no trees at all, only some bushes. But those bushes happen to yield some very pretty flowers for a short time after the April showers.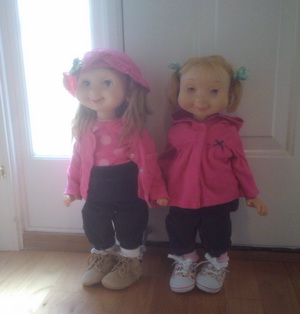 Tootsie was not only distraught to hear this, but also incredulous, a word which here means "she decided she wanted to take a long hike in the morning to go check out this information for herself." Trixie said she would have to decline the adventure, since the threat of rain is still too much in the air, and for Trixie there is nothing more distressing than getting wet. Tessie also, sadly, had to decline, since the scope of these travels would take us to the very edges of Whimsieville, and the possibility of running into dogs would make her too nervous to enjoy any of the pretty flowers. And Mr. Squee, our resident dogcatcher, would be no help in this department, since he planned to spend most of the day sleeping off the Catnip Binge he was currently indulging in, even as we indulged in our chocolate milk and sugar cookies.
That left me, Miss Chrissy and Mr. Russ, and of us three, only I planned to be awake that early in the morning, as Miss Chrissy and Mr. Russ were staying up very late, indulging in their traditional "Saturday Night at the B Movies," last night's features being Frozen Alive (1964) and The Giant Spider Invasion (1975).
So, it looked like it would just be me and Toots on this adventure, and that suited us just fine. Miss Chrissy trusted me with her camera, so we could document our trip, and being Whimsies, I begin that documentation with a thorough description of our Traveling Outfits.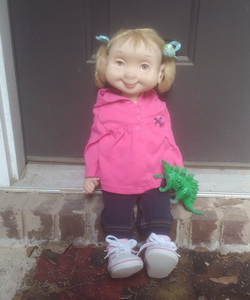 Waking up early this morning, the first thing Tootsie and I did was to put on some good adventuring clothes. For hiking and possible tree-climbing, you absolutely must wear a good pair of blue jeans (or "dungarees," as Tootsie calls them), so that was how we began our outfits. Next, of course, sturdy shoes. Though Tootsie prefers to climb trees barefoot, I convinced her that we would have a lot of traveling to do over some possibly rough terrain, so even though she fought me a little on the shoes, eventually she agreed—especially when she saw how darling these flowered sneakers looked with her "dungarees"! Personally, I chose the suede hiking boots.
Next, since it's still Spring, and not yet Summer, and the mornings may yet have a nip of cold in the air, we opted for light jackets, which can be removed should the sun come out. I chose a bright pink, to match Tootsie's choice of jacket, which gave a sense of unity and solidarity to our outing. However, I opted for a hat to top it all off, and since Tootsie's Easter hat was readily available and matched so well with everything else I was wearing, I thought…"Why not?"
For her part, Tootsie decided against a hat. She explained that in case she did find any trees to climb, she wouldn't want a hat accidentally falling off and getting stuck on an outer branch, where it might not be retrievable. Tootsie thought it made a lot more sense to go with this light jacket which has an attached hood. This way, she can put the hood up or down as needed, and not have to worry about anything falling off or getting lost. And you know what? That makes perfect sense!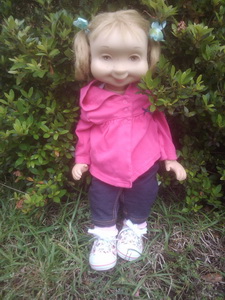 So now we are ready to head out! (Miss Chrissy woke up briefly when she heard us chattering about our outfits, and snapped the pictures of the two of us standing by the front door, right before we headed out on our adventure. Then she went right back to bed.) Neither Tootsie nor I are anywhere near as afraid of dogs as Tessie and Trixie, but when Fred, our dinosaur, heard that we were venturing into the outer reaches of Whimsieville in search of trees, he offered to come along with us for protection. So gallant for a miniature dinosaur! How could we refuse him?
Well, to make a long story short, early this morning Tootsie and I set out with Fred and walked and walked and walked until we got to the very edges of Whimsieville, and though along the way we saw some lovely bushes full of Spring flowers, as expected, we did not see any trees. Tootsie became quite despondent over this development, a term which here means she nearly cried, but then she bucked up when I reminded her that last night Miss Chrissy promised that this Summer she would take each of us Whimsies on a special outing in the car to wherever we wanted to go.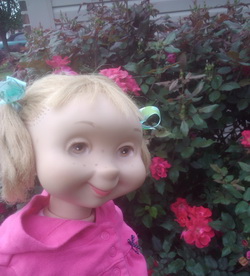 Not all four of us at one time, oh no! That would be too crazy, and besides, each of us would surely like to go to a different place, so these will be four very distinct trips. I'm hoping to visit the Local Public Library, and perhaps take out some exciting books I've never seen before! But as for Tootsie, no doubt she will choose to go to a Park with the tallest trees she can possibly find!
With this in mind, Tootsie dried her eyes, and decided she would begin to get back into her tree-climbing-days shape by practicing in the flowerful bushes we found in the middle of Whimsieville. It's always a good idea when you are "in training" to slowly build up your ability, taking on more difficult tasks after you mastered the easier tasks, so Tootsie began this morning by climbing up and down and all around in these low-lying bushes, and in the days that come, she hopes to conquer the nearby bigger bushes. Now, admittedly, bushes are not trees, but taking daily exercise in the bushes will no doubt prepare Tootsie for her big Summertime visit to the Park.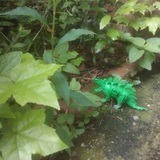 Fred, our Gentleman Dinosaur, has agreed to come out each morning as Tootsie climbs and practices her climbing skills in the bushes, so he can run and get help should she accidentally fall and hurt herself; and also because the lower leaves of the bushes happen to be quite tasty, and he can have a snack for himself, and bring a few leaves home for his other dinosaur pals.
Well, that was our Big Springtime Morning Adventure! We didn't find any trees, but we also didn't run into an dogs. Tootsie went through a series of emotional ups and downs, from utter despair, nearly leading to tears, to the excitement of developing a plan of action to prepare her for her big Summer outing with Miss Chrissy.

It's always good to have something to look forward to. I look forward to my visit to the Library, and Tootsie looks forward to climbing trees in the Park. And as we took the long hike back home this morning, finally removing our light jackets as the sun at last made its full, clear appearance in the sky, while Fred said he looked forward to sharing the Bush Leaves with his fellow dinosaurs, Tootsie and I both looked forward to more chocolate milk and sugar cookies for breakfast.