Whimsieville is a very small town populated by exactly six.  First, there are the three Whimsies: Tessie, Trixie and Tillie.  They are adorable children all born in 1960, but magically they have aged very little in the last half century.  It's difficult to tell exactly how old they really are.  I'm certain they are not babies, and I also know they are not teenagers.  As young ladies, they possess an interest in fashion and boys, so I might guess them to be around eight, or nine…maybe ten?  The Whimsies are always surprising me, so I hate to pin them down to any particular age.  It's much better to say they are ageless representations of the perfect child who still exists somewhere deep inside all of us.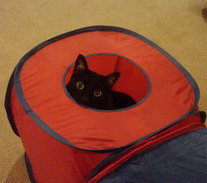 In Whimsieville, you will also find their hired help, the "Dog Catcher," Mr. Squee, who is a cat.  I don't know that Mr. Squee actually takes his dog-catching responsibilities that seriously, but as there are no dogs in Whimsieville, the Whimsies feel he must be doing an excellent job, and have no plans to dismiss him.  Besides, Mr. Squee works for kibble and catnip, so he's very easy to keep happy.
I am Chrissy, and I guess you could say I am the Mayor of Whimsieville.  The girls refer to me as "Miss Chrissy" or "Our Lady," both which I take to be terms of the greatest respect and endearment.  The Whimsies are all grateful to me for financing their journeys out of The Hoard and putting them on the EBAY Train to Whimsieville, where life is so much more pleasant for them in every way.  Now they have clean clothes, friends, entertainment, and a warm, safe place to sleep, away from weather and dogs.  It's good to be a Whimsie!
From time to time I may step in to negotiate a squabble between the young ladies, and I will also be serving as Chief Photographer in Whimsieville, but mostly (hopefully) you will not be hearing too much directly from me. The Whimsies wish to speak for themselves.
There is one more resident in Whimsieville:  a strong silent type known to the Whimsies only as The Man.  I can tell you this much: The Man is incredibly tolerant and patient to allow the thriving community of Whimsieville to peacefully co-exist within the confines of his home.  One reason why he may be enduring the silliness: Having been a Boy in the same era, he shares a common interest with the Whimsies:  1960's Marvel Comics!  We will all be sitting down together to watch the new TV show:  Marvel Agents of S.H.I.E.L.D. 
Well, The Man, the Whimsies and I will be watching.  Mr. Squee doesn't care much for television.
P.S. Whimsieville is closed for comments, but Miss Chrissy is available for correspondence at chrissy@collinsport.net.