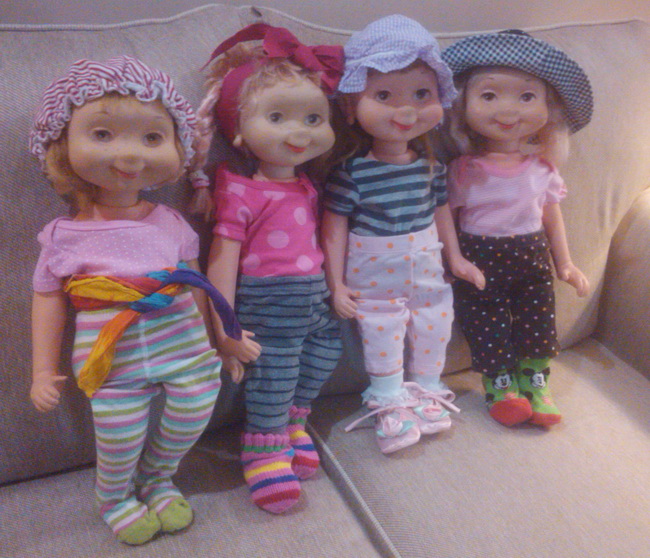 So, here's how it happened.
First of all, you'll remember that in the past, we Whimsies have always dressed up in our traditional Halloween costumes of a Pirate, a Pumpkin, and a Princess Ballerina Fairy. But this year Tootsie has joined us, so we are four Whimsies with only three costumes! Oh! What to do, what to do?
A decision was made to open up the entire Wardrobe and put on our Thinking Caps and see if we could use the resources at hand to put together a new Halloween costume.
Well! Opening up the entire Wardrobe, we began to run into all kinds of tops and bottoms and dresses and hats and accessories, and ended up having a ton of fun revisiting all our old, familiar apparel, trying on favorite pieces in no particular order. And because we were putting on clothes in no particular order, we soon found that we were all wearing stripes and polka dots together—gasp!! As any well-dressed Whimsie knows, you never wear stripes and polka dots together! ::Shudder:: It simply isn't done.
Yet, we were doing it.
So then Tillie suggested that in our stripes and polka dots and crazy hats and patterned socks, we were barely recognizable as Whimsies—whom everyone knows are always impeccably and fashionably dressed. In some strange way, we actually felt more like we were in disguises. In fact, we found it so odd to simply look at each other and see Whimsies wearing such an odd conglomeration of patterns, that when all was said and done, we decided that these crazy outfits could very well serve as the Halloween costumes we were so desperately trying to create. Quite by accident, we had found the very thing we were looking for!
Can you say "Serendipity"??
So here we are, for our somewhat unconventional Halloween portrait, a group of Whimsies masquerading as Anti-Whimsies…or Pseudo-Whimsies.
(Shhhh….don't tell anyone. But it's really us!) 🙂