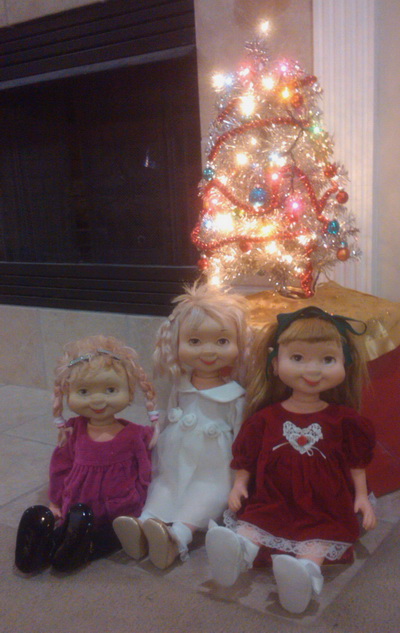 So here we have it! The official Whimsie Christmas Portrait for 2014. And don't they look so beautiful in their new Christmas outfits, with those huge grins upon their adorable faces?
The Whims have been so excited about everything Christmas, helping me to bake and wrap presents, and learning all kinds of Christmas Carols, which they sing so sweetly in their high-pitched melodic little voices. It's amazing to see how much joy they always find in their everyday lives, but when the holidays come around—watch out! Joy and Excitement go into full-fledged overdrive, when the holidays loom.
But nothing excites a Whimsie as much as the opportunity to put on some new clothes and have a photo shoot—especially if it's in front of a fireplace, and next to a Christmas tree! So let's see what the girls have chosen to wear for this holiday season!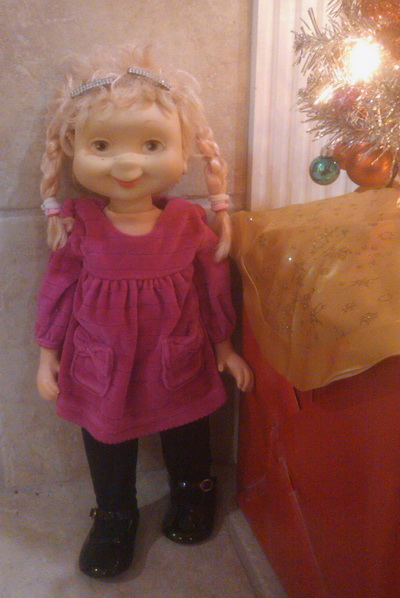 First, let's take a look at Trixie. Her holiday outfit is extremely casual, a soft velveteen mini dress…in what color? Why, PINK, of course! And what looks better with pink than black? Trixie wears some black tights against the cold Winter weather, and finishes it all up with black patent leather Mary Janes.
Wait! Did I say she "finishes up"? Not so fast, my friend! Take a look at her hair. Trixie has decided to accessorize her customary braids with a couple of shiny jeweled hair clips. She places them on the top of her head, bringing down a fringe of hair to create "bangs." This is a new look for her, and quite becoming, wouldn't you say?
One more thing of note: Trixie's little dress has two very prominent pockets on the front. She tells me this is to make it easy to collect little any little chocolates and candy canes that Santa Claus is likely to provide as a holiday treat. That Trixie! She's always ready for anything!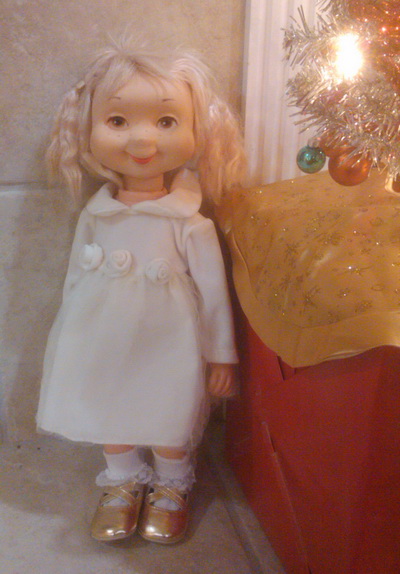 And now let's look at Tessie, who is going off in a totally different direction. As casual and fun as Trixie's outfit is, that's how elegant and ethereal our little Tessie appears, like an angel, all in white. You'll note she wears lacy white socks, but her shoes are golden and shiny, like the ballet slippers of an otherworldy being.
Miss Tessie tells me that in her Christmas look, she is hoping to capture the beauty of newly-fallen snow. Also of note: she's been singing the Christmas Carol "Oh Little Town of Bethlehem" almost non-stop since she first heard it, and hopes that the simple beauty of her Christmas outfit perfectly captures the calm and quiet of that first Christmas night, so many years ago.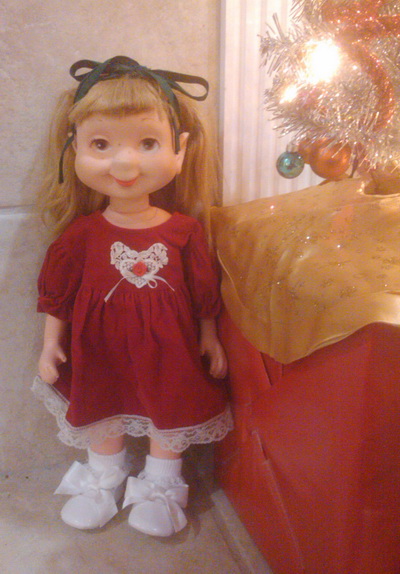 And now, here's Tillie, in a much more traditional look, the red velvet of her dress so perfect for the Christmas season! The lacy trim, as well as the lacy heart on her bodice could serve her just as well for Valentine's Day!
But it's not Valentine's Day yet! It's Christmas, and Tillie is dressed to the hilt. Look at her shoes and socks, aren't they simply adorable, with those huge white bows? Nothing says Christmas more than red and white, unless it's red and green, as Tillie understands, having tied a green ribbon in her hair.
Each Whimsie looks so different, and yet each is completely ready to celebrate this holiday. They would be here themselves to say "Merry Chrismas and a Happy New Year!" but I'm afraid they are much too busy at the moment, eating Christmas candy, singing Christmas Carols, and marveling over all the wonderful new things Santa Claus as brought them, since they have been good little Whimsies all year long.
I suspect this will be a very long day for the Whimsies, full of all kinds of wonders, and by the end of it they will have quite worn themselves out. But that's okay. By night time surely they will change out of their fancy dresses into their comfy jammies, and want to cuddle up on the couch with Mr. Squee to watch all their favorite Christmas movies. At some point, those magical Whimsies will at last fall asleep, with visions of sugarplums dancing in their head, as they begin to wonder what new adventures await them each day between now and next Christmas Day.