The last few days the weather has been just a little cooler and crisper than usual, with bright blue cloudless skies, giving us hope that Autumn is truly on its way. The official start of Autumn is yet a few days away, but that hasn't stopped us Whimsies from thinking about all the wonderful outfits we'll be able to put together for the new season! And what says Autumn more than long sleeves, long pants, and socks? That's our theme for our latest Fashion Show, as we now begin to look forward to cooler weather.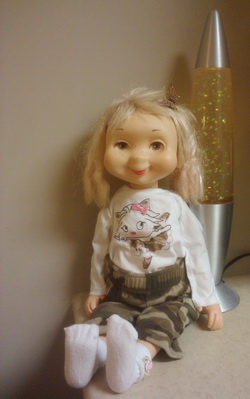 Let's start this time with Tessie, since she has put together a cute little outfit in mostly neutral colors. You may notice her pants as something she's worn before, last February, when she had a Winter Morning Adventure At that time she was also wearing a brown velveteen jacket with a kitty kat on the left shoulder, but now she pairs these long pants with a new shirt depicting a different kitty kat….or is it the same one, having a different kind of fun?
This kitty kat wears a pink bow on her head, and a snazzy skirt that evokes the image of a ballerina. The long sleeved shirt is pure white, giving us a great a great opportunity to notice how much fun the kitty kat is having, striking her ballerina pose! And the white of the shirt exactly matches the white of Tessie's socks.
It's an odd combination to pair a ballerina with what one might call "army pants" or "cargo fatigues." One is so cute and girly, the other so utilitarian! But it's that odd combination that makes this outfit work for Tessie, as she poses next to the sparkle lamp. "The lamps sparkles, and in this outfit," Tessie explains, "I feel that I sparkle as well!"
How true!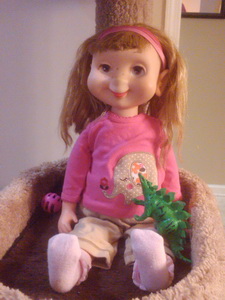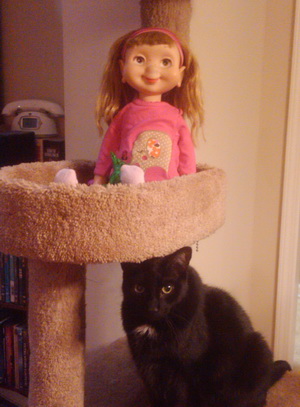 So, Tessie has incorporated a kitty kat into her outfit, and I'll do the same…not in my outfit, but in my pose. Because here I am, visiting Mr. Squee in his condo! My long sleeved shirt is one you have also seen before, pink, with a spotted brown elephant on the front! You know, when you start putting pictures on shirts, you can certainly come up with some pretty wild ideas, don't you think? Who ever saw a spotted brown elephant? Well, you'll see one now as you look at me, posing here with both Fred the Dinosaur, and Mr. Squee. (Fred and his other dinosaur friends live in the penthouse apartment of Mr. Squee's condo, of course, so it was a quick trip for him to jump down and cuddle with me in my lap.)
As for my outfit, you'll notice that my pants are light brown, like the elephant, and my socks and headbands are pink, to pick up on the pink of the my shirt. Pink and brown have always struck me as a very pleasant and comfortable combination, and what could be more comfortable than visiting Mr. Squee in his luxurious condo?
You'll notice I've let me hair down again, after having it up for a while. Frankly, I much prefer to have my hair down. It's more comfortable and natural. And, as far as I'm concerned, Autumn is the one season most in tune with everything is comfortable and natural. So, hair down, long sleeves, long pants and socks…I'm ready!
Now we come to Trixie, and is so often the case, Trixie is doing something a bit outrageous. Yes, she's adhering to our theme of long sleeves, long pants and socks, but hers are all in black! Well, not the socks, because right now we don't happen to have any black socks. But Trixie can put "black socks" on her list to Santa, because with her "Christmas Rocks" tee shirt, she is looking straight past Autumn and all the way to the biggest holiday of the year!
Christmas, of course, is on December 25th, which is only a few days past the end of Autumn, and "Frankly," Trixie explains, "Christmas always feels more like a season to me than a single day, and the Christmas season starts right after Thanksgiving, which is a big holiday in the Fall, so it's not really a stretch to wear a Christmas shirt in the middle of Fall, is it?"
Well! Trixie has certainly reasoned all that out, hasn't she? She also tells me that since we've come clean about enjoying candy, she's planning a big post about her favorite Christmas Candy, so wearing this outfit is putting her in the mood to share all that with you, next time she visits the Whimsieville blog.
But as for her outfit, yes it's Christmas, and yes, it's black, which seems a strange combination, but for Trixie, somehow it works. The fact that her white socks so drastically clash with her black outfit, and the fact that those white socks have dainty lace trim around the edges further emphasizes that Trixie is indeed going for a look that is clashing and shocking. Because what could be more clashing and shocking than dainty white lace paired with Rock & Roll??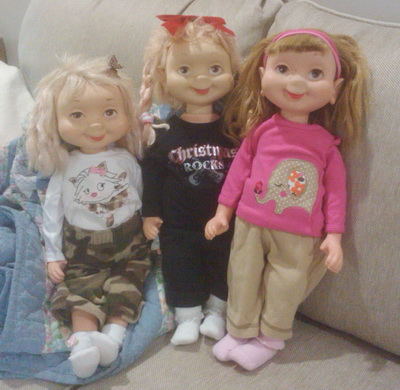 You see, there are a couple of electric guitars under the words "Christmas Rocks," so the message on Trixie's shirt can be taken two ways. First, Christmas "rocks," meaning it's cool and groovy, but also, Christmas rocks in a musical way! Since we all know that in addition to Christmas and candy, Trixie also loves music, I'm sure that before this year is over, she will reach into Miss Chrissy's extensive CD collection to find some Christmas Rock & roll music to share with you all! (Remember, I recently helped Miss Chrissy sort and alphabetize her CD's, so I know there is some fine Christmas music up on those shelves!)
So, anyway! That's our Fashion Show of the moment. And here we all are, hanging out on the new couch, just waiting for Autumn to knock on our door! We're ready for you, Autumn….so bring it on!!