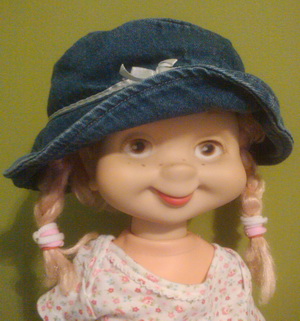 A little while back, Tessie promised a Fashion Show, but then we got distracted by the final episode of SHIELD and just had to stop and talk about that, and in addition, there's been so much Christmas-type activity going on here in Whimsieville, that it's been a real whirlwind! But every whirlwind must die down eventually, and when it does….Fashion is still there. And Whimsies are are always BIG fans of Fashion! So without any further delay, we present to you some of our latest Fashions from the Thrift Store Boutique!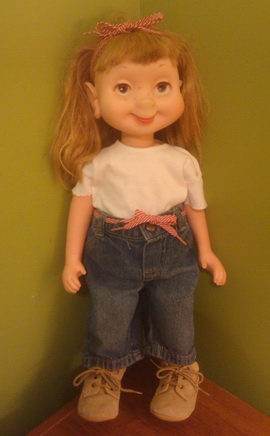 I call this the "(Not So) Fancy Pants" Fashion Show because in fact our new clothes are pants, and…guess what? They're not really very fancy. But that's okay, because in general, Whimsies would rather be comfortable than be fancy, if we had to choose one over the other. And while I must admit we all look terribly good and terribly fashionable in our new pants, more than anything, and most important of all, we look comfortable…because we ARE comfortable.
Let's start with Tillie. She is showing off our new baggy blue jeans. Or…dungarees, as they used to be called. (Don't you just love that word…dungarees??) Tillie truly understands what blue jeans are all about, because here she has paired them with the most simple and classic of all clothing: a plain white tee shirt. White and blue. I tell you: it's classic! And not only that, but she also adds our new tie-up brown suede shoes. This ensemble says "Saturday Afternoon," like nothing else possibly could. But here's the crowning glory—red and white striped shoelaces! No, not in her shoes, but Tillie ties one around her waist, as a belt, and another holds back her long, beautiful hair. Oh my! Can you say "Patriotic"? Wait! Did I say "Saturday afternoon"? A Saturday afternoon early in July, I would guess!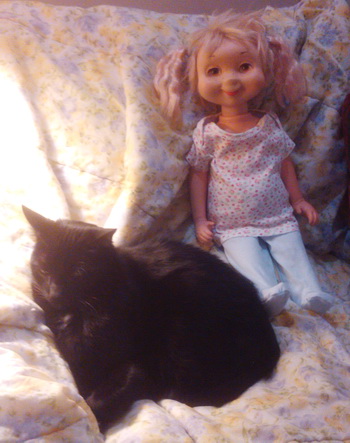 Tessie, on the other hand, is evoking all the comfort of an evening at home, hanging out on the couch with Mr. Squee, looking positively relaxed in her new soft blue "footies." Whenever you find a pair of pants that have "feet," you have to say they are "jammie" pants, and that's just fine with Tessie, and with the rest of us, because hanging out in jammies is one thing we Whimsies are very good at! The blue of Tessie's pants might be called "Baby Blue," and though we Whimsies are not babies, we have no aversion to the color. Notice how nicely Tessie's pants blend with the pale yellow and blue of Mr. Squee's Couch Blanket. He doesn't seem to mind her sitting there with him, as long as she doesn't try to monopolize the light from the nearby lamp. Cats love lamp light almost as much as we Whimsies love comfortable footie pants! And so, if you ask me, this is a picture of everything being right with the world.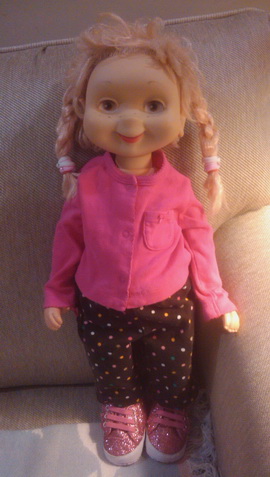 Now, finally, it's my turn! And even though the theme of this Fashion Show is (Not So) Fancy Pants, I think you might agree that I look a wee bit fancy in my hot pink shirt and sparkly pink sneakers. That's the wonderful thing about Fashion: sometimes you can combine things that don't really seem like they should go together, but when you do, you come up with some new look that absolutely works! That's what I'm doing here. You'll notice that my new pants are brown, and soft, and loaded with polka dots. Polka dots are always so much fun! (Why are they called "polka" dots, I wonder? Isn't the Polka some crazy Slavic dance?? Maybe somebody thought all the dots looked like they are dancing? Who knows!) Anyway, the pants are soft, the shirt is soft, the polka dots are crazy, and the shoes are sparkly. How many differnt things can you have going on in one outfit? And yet, it all works together in perfect harmony, and besides all that—once again, this outfit has that all important quality of being completely comfortable!
One more thing before I leave you today. Just take a good look at how wonderful my PINK and BROWN clothes look together. Doesn't it make you feel all happy inside? Bright, and cozy, yet somehow also energetic and exciting? Yes, there's a place for the patriotic red, white and blue, and there's also a place for the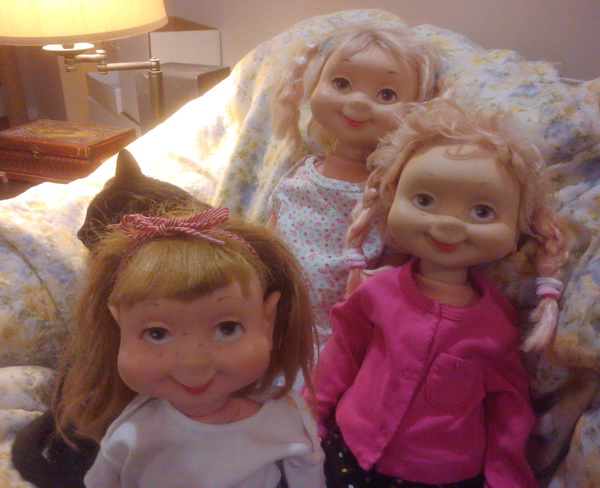 subdued pastel colors that make you want to calm down and get a good night's sleep. But at the same time, there's also a place for the lively look of of hot pink and crazy polka dots. It's a good thing there are so many different types of clothes in the world, to fit all our many different types of moods.
And next time we hope to show you some more Fashion—our Christmas outfits! Can't wait for that. But as we do wait, I think we'll just hang out here on the couch with Mr. Squee for a little while. He's so happy with his lamp light, I don't even think he knows we're here! So, everybody…shhhh…. Let's let him sleep…