It's a well-documented fact by this time that we Whimsies are huge fans of anything and everything SWEET! So imagine our delight when Miss Chrissy went shopping and brought back these cute little tubs of ice cream. The thinking is that one of these little tubs is just the perfect size for a human to have a single serving of ice cream without "pigging out." Because, you know, ice cream is so delicious that it's entirely too easy to pig out if there is too much of it in the freezer.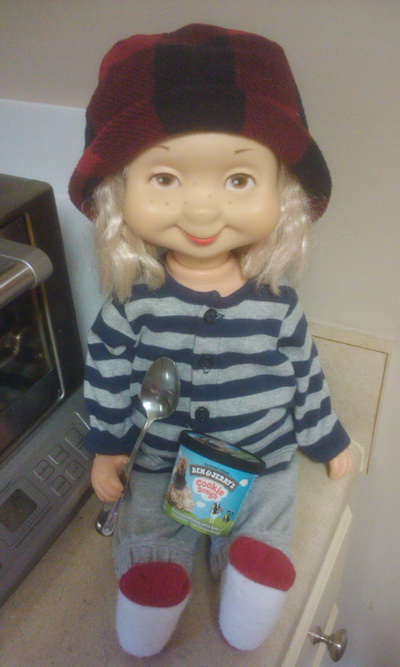 So Miss Chrissy bought these tiny little ice creams, thinking they would be the perfect size for an after-dinner snack for her and The Man (who, by the way, we have come to learn, is named Mr. Russ).
And she did not forget us Whimsies, either! She also got each of us a little ice cream of our own. Tillie and Tootsie each got a Peanut Butter Fudge, Trixie went full chocolate with Chocolate Fudge Brownie, and I opted for this Chocolate Chip Cookie Dough. Because what could be better than cookies and ice cream together?? Well…unless it's peanut butter and fudge together, or chocolate and brownies together, or what Mr. Russ had: Salted Caramel, or what Miss Chrissy had: Coffee Coffee Buzz Buzz Buzz! (Really. That's a kind of ice cream. So say Mr. Ben and Mr. Jerry.)
As you can see, there are a million flavors of ice cream, and I haven't even begun to mention any of those that use FRUIT. That's a whole 'nother family of delicious flavors, but we'll have to wait for another time to talk about all of those.
So anyway, the other Whimises were so excited that they ate up their ice creams right away, and because they foolishly ate so fast, they got what is known as "Cold Brains." I've had that before, and it isn't fun, so this time I decided to take every precaution against it. First of all, as you can see, I dressed appropriately, in nice warm clothes: sweat pants, big wooly socks, long sleeved shirt, and a woolen hat. Haha! Just try to give these brains "Cold Brains" if you can, Ice Cream! It won't happen, because I'm very well protected against the cold. This is what the well-dressed Ice Cream Eater should be wearing…this season, and every season. (Well, unless it's the middle of Summer and 100 degrees. Then it's okay to eat ice cream in your bathing suit.)
And then, there's one more very smart thing I'm doing here. I'm waiting. And waiting. And waiting for my ice cream to get a little softer, so it's easier to dig in with my spoon. Because the same way a tennis player does not like to get "Tennis Elbow," an ice cream eater does not like to get "Ice Cream Elbow" from having to dig in and dig in with their spoon into rock hard cold ice cream that is not ready yet to be eaten.
Everyone else risked "Cold Brains" and "Ice Cream Elbow" and now they have finished their ice cream, but here I sit, waiting, and waiting, and patiently waiting, for the perfect moment to begin enjoying my special little treat. I'm well-dressed for the occasion, and I'm being very smart, and very patient, and soon…
Very soon…
Aw, heck! Enough already with the being smart and patient! I'm sure my ice cream is soft enough now. My spoon is at hand, and it's the perfect temperature, and so is my ice cream (I think…) so if you don't mind, I'm going to leave you now, so I can enjoy my Chocolate Chip Cookie Dough Ice Cream.
Yummm!!