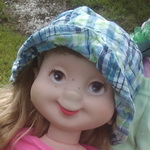 Though the Weather here in Whimsieville has not yet been notified, Summer is now officially over. The time for wearing shorts and running barefoot is quickly coming to an end for this calendar year, and we know there may only be a few more weeks, or even a few more days, of this hot steamy weather that is so appropriate for our colorful Summer Wardrobe. So while there is yetl time, we want to dress up and go outside to run and play in the sunshine and have our pictures taken in our Summer Best.
We always like to take our pet Dinosaurs along with us for any outdoor activity, so naturally they accompany us on this photo shoot. You know, of course, that Dinosaurs will not sit still for photographs until their bellies are full of leaves and berries, so before we can even think of posing, we decide to first let Fred, Wilma, Barney and Betty graze around in the grass, chomping on the greenery.
The best eatings are on the very edges of Whimsieville, so the Dinosaurs keep making their way further and further from the homestead, into the tallest weeds. Only Tessie is willing to accompany them, since the outfit she chose includes a sturdy pair of sneakers. Tootsie starts to go too,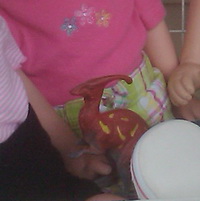 but quickly returns when she finds a burr with her bare foot. Ouch! Tootsie's a tough tomboy, so she doesn't cry much, but returning to the shade, she 's happy to cool her tootsies in the cool grass.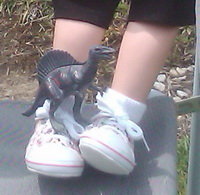 While we wait for Tessie to return with the Dinosaurs, let me take a moment to mention how very proud of her I am for being bold enough to head out alone to the very edges of Whimsieville. She's come such a long way since I first met her, when she was so terrified of the possibility of meeting a dog (or a wolf) even the slightest distance from the back door. Mr. Squee, our official "Dogcatcher," has not actually done much in the way of catching any dogs, but he has put out the word, laid down the law, and scared away any dogs (or wolves) that might even consider getting close to Whimsieville. It's now pretty well known in the neighborhood that dogs and wolves are not welcome in Whimsieville, and they respectfully keep their distance. Tessie has developed a deep level of trust in Mr. Squee's ability to protect the property,but I think, also, she is beginning to realize that not all dogs are monsters. Maybe someday she might actually be able to watch a movie with a dog in it! We can only hope…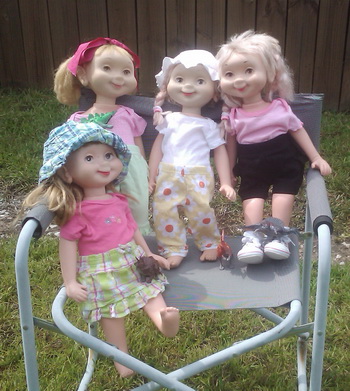 But here she comes, back from her tiny adventure with our Miniature Dinosaurs, and those four little ones certainly look contented, and almost ready for a nap, so best to get them to pose for pictures before they all fall asleep!
Here then is our official Summer Portrait, a happy group of Whimsies in the sunshine, wearing our Summer colors and accompanied by our pet Dinosaurs! Let's take a moment to explore how each of us is using Fashion to celebrate the end of Summer.
As previously mentioned, Tessie has chosen to wear sneakers, She expertly coordinates the delicate floral print of these very girlie sneakers with simple black shorts and a pink and white striped top. Nothing fancy going on here, she's just ready for adventure, and at the same time looks so very feminine.
Trixie goes bold with yellow and white. Now, you may not think there is anything bold about the color combination of yellow and white, but remember that us Whimsies solidly cling to the belief that "Nobody looks good in yellow." Well, guess what? We may just have to change our minds on that one! Trixie has found a darling pair of yellow flowered pants, which she matches with her simple white tee, and tops the whole thing off with a white seersucker hat. You may not be able to see it in these photos, but there is the tiniest little yellow ribbon on that hat! Oh yes, Trixie has most definitely overcome her fear of Yellow! That is practically as impressive as Tessie overcoming her fear of dogs!
Now for Tootsie, recovering from a burr sting on the bottom of her foot, but still smiling to beat the band. Despite Tootsie's penchant for denim, today she has chosen soft clothes in soft colors to celebrate the end of Summer. Tootise is our little tomboy, but today she certainly looks girlish in sherbert hues of pink and green. Or should I say….strawberry and lime? Tootise has tied a huge pink ribbon around her head, to keep her hair away from her pretty face. And aren't we proud of the latest addition to our little Whimsie family for being willing to experiment with a new kind of look?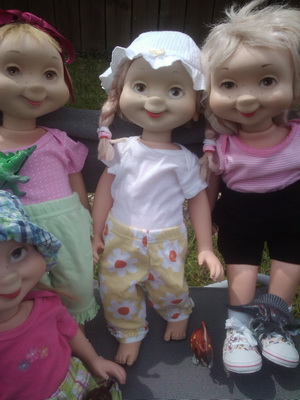 Finally, here I am, also in sherbert-y colors, but totally working the plaids. The plaid of my hat is blue and green, while the plaid in my skirt is green and pink. No, they don't really match, but it's Summer, and we're outside, having fun, so who cares about matching? Summer Fashion is more about feeling good than it is about looking good, though when it comes right down to it, you know what? Not only do I feel good, but I think I also happen to think I look great in my crazy conglomeration of Summer colors!
So there you have it. The End of Summer. To some degree there's a hint of sadness in the passing of one Season, but at the same time, we celebrate the arrival of another: our beloved Autumn! We all had a great Summer, with each of us going on a special Adventure with Miss Chrissy and Mr. Russ, and we will always have those great memories. And we can always hope for more Adventures in the future.
So now comes Autumn, with its own particular charms! And here we go, a bunch of happy Whimsies at the height of Fashion, with a menagerie of Miniature Dinosaurs, piled into a metal basket we found lying about in the yard, pretending it's a boat that will carry us off into the Future of Everything Life Has to Offer, in this coming Season, and in all the unknown Seasons that lie beyond the horizon!