Every year on Christmas Eve, Miss Chrissy and The Man attend a Family Gathering which involves a lot of gift giving, talking about football, and all kinds of delicious foods. Each person brings a dish, and they all share. The "dishes" are what are commonly called "Finger Foods"—no forks, spoons or knives needed—though toothpicks are allowed. Each year Miss Chrissy and The Man bring at least one "real food" dish, like Swedish Meatballs, or Chips and Dip, or a Vegetable Platter, and they also bring at least one dish of SWEETS. This could be cookies, candies, miniature cupcakes, and how much better if those cupcakes are actually tiny little cheesecakes, with a dot of strawberry jam on top!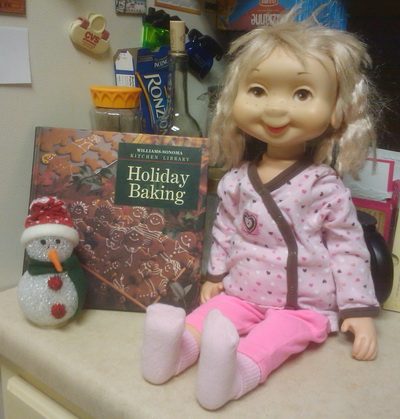 But I'm getting ahead of myself. The point is that once again it is time for Putting on Thinking Caps and coming up with some wonderful foods to both impress and delight the other members of their family. As we Whimsies hear them talking about what they should bring, we couldn't care less if they decide on Tuna-Stuffed Cherry Tomatoes or Pigs in a Blanket. But when it comes to the matter of SWEETS, our whimsical ears perk up, and we are all about trying to help them decide. Not only because we want their family members to be both impressed and delighted by their wonderful choices, but also because we know that if by any chance they happen to make just a wee bit more than will actually fit on the serving platter, some of it will stay home, and we'll get to try a few bites.
With that in mind, we began to hungrily scan the bookshelves in the Extensive Library, looking for cookbooks that might offer up fabulous ideas on the most delectable treats. And what did we find? This gem of a book called Holiday Baking, which is full of all kinds of good recipes and lots of shiny, glossy beautiful photographs of simply scrumptious looking baked goods!
Having gone through the book several times each, we have finally decided on our favorites, and are currently nagging Miss Chrissy on a constant basis to please, please, please make THIS delicious dish! I say each of us has chosen our favorite, but truth be told, there is very little wiggle room between what is my favorite, and what is Trixie's and what is Tillie's. ANY of these beautiful sweets will work just fine for all of us. But still, here we are to make a case for each one.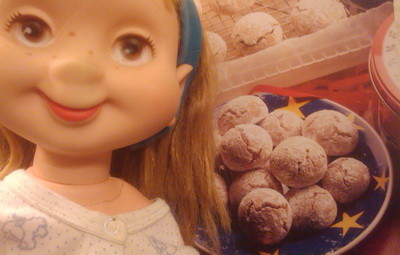 Tillie has chosen this dessert—but don't ask me to say it, because it's spelled P F E FF E R N U SS E. Actually, don't ask me to spell it—or say it! The book tells us that this is a German version of "pepper nut" cookies, so we're guessing that word must be German, and we don't know how to speak German. At first I was not altogether sure "pepper nut" cookies sounded like a good idea, but Tillie persuaded me when she read the recipe, which includes cinnamon, nutmeg, cloves and firmly packed brown sugar. MMMMMmmmm…….Of course, the recipe also includes a half a teaspoon of ground black pepper, which seems very strange in something that is supposed to be a SWEET. But I guess I would be willing to try it. Who says us Whimsies are not adventuresome spirits??
Tillie says she likes this recipe because to look at the Pfeffernusse itself, it (or they?) don't really look like much—maybe some simple balls of uncooked dough? Yuck! But we know that's not what they really are. Tillie says that sometimes things that look the most simple and unassuming can really be the most wonderful. You know that saying "You can't judge a book by its cover"? Well, maybe you can't judge the Pfeffernusse by its unassuming appearance. With all those spices in there (as well as a ton of butter and sugar), they MUST be good! Tillie's hoping Miss Chrissy will bake these, so we can all find out for sure.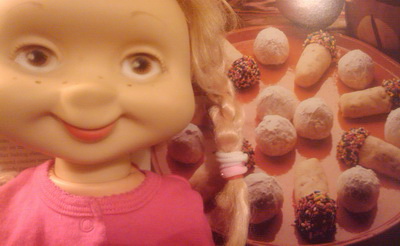 As for Trixie, she's campaigning for these Mexican Wedding Cakes. Hey, wait! Are those some Pfeffernusse nestled there in between the Wedding Cakes? Sure looks like it to me! But if you read this recipe, you'll see that in addition to your usual flour and butter, these sweets also call for masa harina which is some kind of flour made from CORN. Yep. Corn. I'm not so sure about that. I would really have to wonder what these little cakes would taste like, with corn in the mixture. I think perhaps when Trixie chose this recipe above all the others in the book, she was trying to outdo Tillie's international sense of adventure in choosing Pfeffernusse. I think Trixie must be thinking more along the lines of "impressing" the other Christmas Eve guests, rather than "delighting" them. Though you have to admit, those little cakes dipped in chocolate and covered in sprinkles do in fact look mighty delightful! So! I might be willing to give the Mexican Wedding Cakes a go, as well…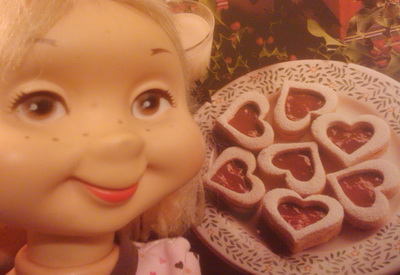 Except for this! My favorite recipe from this book of Holiday Baking is Raspberry Linzer Heart Cookies. Oh, don't they look so adorable! I'm not really sure what "Linzer" is all about (another German cookie term?) but I certainly understand Rasberries and Hearts! If Miss Chrissy and The Man were to bring these cookies to the Christmas Eve noshing, the cookies may not scream "Merry Christmas!" the same way candy canes and cordial cherries do, but they would certainly say, "Baked with LOVE." Holiday or not, there is never a time when raspberries are not appropriate. And delicious. These cookies also contain a good deal of walnuts, which are not a favorite Whimsie food when eaten on their own, but in a recipe with lots of sugar and butter and raspberry jam, I imagine they would compliment all the other flavors very nicely, thank you very much!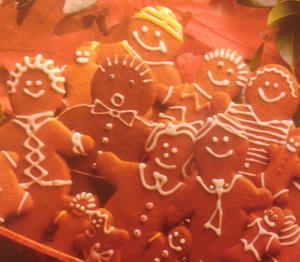 Of course the very best of all these recipes, we all heartily agree, is the basketful of Gingerbread Men on the cover of the book. All of them (except one) are smiling so happily, as if they have no idea they are about to be consumed in a flurry of holiday happiness! Well, it's happy for the people who get to EAT these Gingerbread men, I guess…but NOT so much for the Gingerbread Men themselves! But then, maybe (I wonder…) if you happen to be a Gingerbread man (or woman), do you begin your short but happy life, understanding that your very highest purpose is simply to provide joy to others? Do all these Gingerpeople instinctively understand that,,,except for Mr. Startled Bowtie?
Oh my…I'm really going off in a bizarre direction now, arent' I? Oh well, enough about the Christmas Sweets! Today we've been hanging around in our soft, comfortable clothes that are just this side of jammies, but right now, Tillie and Trixie are telling me that it's time to try on our newest items from the Thrift Store Boutique! Yea! Looks like next time, we'll be getting back to one of our very favorite activities—a Fashion Show!